My daughter will be getting married in June and her dress came in yesterday. We were so excited and rushed up to get the dress and try it on again for alterations. Amazingly, the dress fit perfectly!! No alterations needed.
Originally she was just going to have that small hair piece in that had a flower and some feathers and that was all. Once we got back there and she put the dress on and decided to "just look at" a veil, she as hooked. In the end she went with a really long veil on bottom with a shorter veil on top. It is really
beautiful
.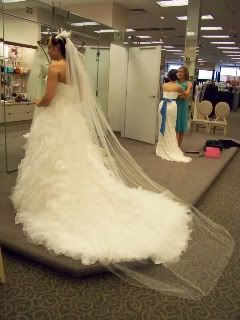 A few more pics of the dress.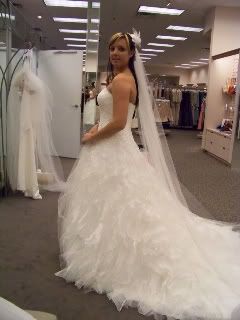 Then the lady in charge of alterations did the most amazing thing to bustle the wedding dress for the reception. Instead of simply having it tuck under, she has it in a series of folds that make this dress look so beautiful. It is had to see in the pictures, but it makes the back of the dress look like a bunch of rose petals.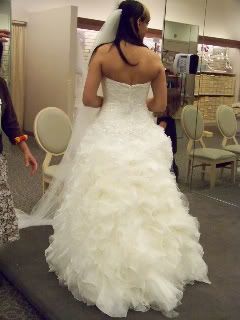 We are so pleased at how everything has worked out with the dress! If only everything else would go this smoothly :)