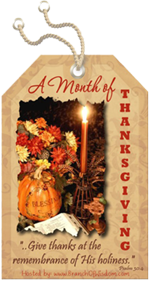 Tamara, at Branch of Wisdom is having a giveaway. To participate e
very day from Sunday, October 24th through Wednesday, November 24th, simply write a post of Thanksgiving (share something you are thankful for). You can keep it simple with one line, or be creative with pictures, ideas, crafts, etc.
Praising God today for my many blessings....
...the blessing of having a home to live in
...the blessing of heat and air
What blessings are you thankful for today?