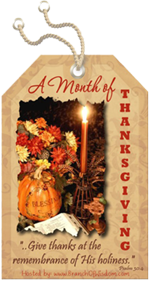 Tamara, at Branch of Wisdom is having a giveaway. To participate every day from Sunday, October 24th through Wednesday, November 24th, simply write a post of Thanksgiving (share something you are thankful for). You can keep it simple with one line, or be creative with pictures, ideas, crafts, etc.
First I have to say WOW!! This couldn't have come at a better time. I have been so absorbed in the negative in my life right now that I am glad for the opportunity to turn my thoughts to the things that I should be concentrating on which is the blessings!
Thank you God for the blessing of........
...my family
...the time I get to spend with my children
...the gift of being able to homeschool
What blessings are you thankful for?